Tricon Contracting Company is a family owned & operated excavating and grading company established since 1986.
Operating out of King City, Tricon Contracting Company provides a full line of on-site grading, building excavating and off-site disposal services for land development & the residential/commercial construction industry.
Our services are broad in scope with tenures both inside and outside of the Greater Toronto Area. Tricon's fleet of equipment and trained operators entrusts insurance with our clientele that their projects will be completed in a timely, clean and efficient manner. Along with our excavators our fleet consists of ten (10) company owned trucks.
We have also established a vast array of rental agreements with well established trucking brokers giving us the flexibility to expand our trucking fleet when necessary.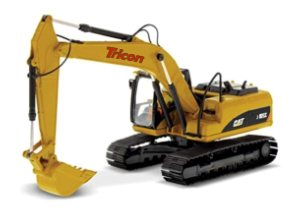 Ranging from off-site disposal of material stockpiles to importation of engineer-able fill materials to on-site grading works. We also include the excavation of storm water management pond facilities. Complementing our off-site disposal services is our extensive list of disposal sites throughout the GTA.